Oggy and the Cockroaches Nicklodeon & Cartoon Network Comedy Show|Promo |Story |Title Song|Charectors
MARKY Long tall skinny MARKY is second in command. Not exactly gorgeous, although he is reputed for past success in that domain. Difficult to believe that now. Maybe when he was young, who knows…
MARKY
Story of Serial Oggy and the Cockroaches
Lazy cat Oggy enjoys living a simple life -- eating and watching TV are among his favorite hobbies. Unfortunately, his roommates often get in the way of his laziness.
Oggy and the Cockroaches Nicklodeon & Cartoon Network Comedy Show|Promo |Story |Title Song|Charectors |Voices
Those roommates are tiny cockroaches Joey, Marky and Dee Dee, who like to cause mayhem like raiding Oggy's fridge, making big messes

and forcing the cat to clean up after them.
Despite the trouble they cause, Oggy secretly misses the little critters when they're not around. Also part of Oggy's life is nature-loving neighbor Olivia, who is his love interest.
Characters of Serial Oggy and the Cockroaches
OGGY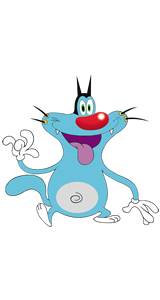 OGGY is a big blue easy-going Tom… well, that's how he'd describe himself. A sensitive cat with a kind heart : a "good guy".
Only one thing this cat is after : a quiet snooze, curled up on his pink cushion in front of his favourite mind-numbing TV programs.
He adores game shows, fantasising about the day he'll win a self-cleaning oven, or 12 gear vacuum cleaner on "The Wheel of Fortune"… OGGY, an Ideal Home fan, is a natty housekeeper.
JOEY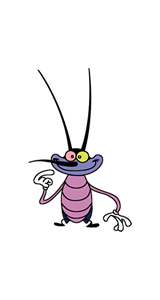 JOEY is the roaches'' true leader. He's selfish, mean, vicious, cynical and horribly sadistic… He's the boss.
If he could talk, he'd make us a stirring speech about the destiny of the cockroach civilisation. His ultimate goal is to take over the entire household.
His mind is a boundless source of new strategies to achieve those ends. One thing is clear : JOEY hates OGGY.
Telecast Details of Oggy and the Cockroaches Serial
Show Name :-

Oggy and the Cockroaches

Channel Name - CN & NICK

Launch Date :- May 2013

Days - Daily

Timings -Not Fixed

Genre :- Comedy
Language:- Hindi