1. The government appointed M.J. Joseph as the Controller General of Accounts (CGA) in the Ministry of Finance. Joseph, a 1979 batch Indian Civil Accounts Service (ICAS) officer, was the Director General of the Bureau of Indian Standards (BIS). He succeeds Jawahar Thakur (ICAS-1979) who has been appointed as OSD (Accounting Reforms) in the office of CGA.
सरकार ने एम.जे. जोसेफ को वित्त मंत्रालय में लेखा महानियंत्रक (सीजीए) नियुक्त किया। जोसेफ 1979 बैच के भारतीय सिविल लेखा सेवा (आईसीएएस) के अधिकारी हैं। वह भारतीय मानक ब्यूरो में महानिदेशक हैं। नये पद पर वे जवाहर ठाकुर की जगह लेंगे। ठाकुर को सीजीए कार्यालय में विशेष अधिकारी (ओएसडी-एकाउंटिंग सुधार) नियुक्त किया गया है।
2. Indian shooter Gagan Narang won the bronze medal in the 50m Rifle Prone Event of the ISSF World Cup at Fort Benning in USA, earning himself a quota place for the 2016 Rio Olympics. Narang, who won the bronze in 10m Rifle at the London Olympics, shot 185.8 overall to secure third place behind gold medallist Michael McPhail (208.8 points) of USA and Ole Kristian Bryhn (206.3) of Norway.
भारतीय निशानेबाज गगन नारंग ने अमेरिका के फोर्ट बेनिंग में आईएसएसएफ विश्व कप में 50 मीटर राइफल प्रोन स्पर्धा में कांस्य पदक जीता और 2016 में होने वाले रियो ओलंपिक खेलों के लिये कोटा स्थान हासिल किया। लंदन ओलंपिक में दस मीटर एयर राइफल में कांस्य पदक जीतने वाले नारंग ने कुल 185.8 अंक बनाकर तीसरा स्थान हासिल किया। अमेरिका के माइकल मैकफैल (208.8) ने स्वर्ण और नार्वे के ओले क्रिस्टियन ब्राइन (206.3) ने रजत पदक जीता।
3. Relaxing norms, the Reserve Bank said customers can use card for contactless payments without PIN authentication for transactions up to Rs. 2,000 across all merchant categories. The limit of Rs. 2,000 per transaction will be the limit set across all categories of merchants where contactless payments will be accepted.
नियमों को सरल बनाते हुए रिजर्व बैंक ने कहा कि ग्राहकों को सभी वर्ग की दुकानों में कांटेक्टलेस प्रौद्योगिकी के जरिये 2,000 रूपये तक सौदे के लिये पिन प्रमाणीकरण की जरूरत नहीं है। व्यापारियों की सभी श्रेणियों जहां कांटेक्टलेस भुगतान स्वीकार किया जाएगा के लिए प्रति लेन-देन 2,000 रूपय की सीमा निर्धारित की गई है।
4. The Union Minister for Minorities Welfare, Najama Heptullah and Union Minister Mukhtar Abbas Naqvi kick started 'USTAD' yojana (Upgrading the Skills and Training in Traditional Arts-Crafts for Development) in Varanasi. The scheme envisages to boost the skill of artisans, craftsmen and weavers who are already engaged in their work. The scheme is part of PM's vision of 'Sab ka Sath Sabka Vikas'.
केंद्रीय अल्पसंख्यक मंत्री नजमा हेपतुल्लाह व केंद्रीय मंत्री मुख्तार अब्बास नकवी ने 'उस्ताद' (अपग्रेडिंग द स्किल्स एंड ट्रेनिंग इन ट्रेडिशनल आर्ट्स-क्राफ्ट्स फॉर डेवलपमेंट) योजना का वाराणसी में शुभारंभ किया। केंद्र सरकार ने इस योजना को बुनकरों, हस्तशिल्पियों और पारंपरिक कलाकारों की प्रतिभा को सही पहचान दिलाने और नए वक्त के साथ उनकी कला को निखारने के लिए किया। यह योजना प्रधानमंत्री के सबका साथ सबका विकास कार्यक्रम का ही हिस्सा है।
5. Syndicate Bank has appointed Arun Shrivastava as its as Managing Director and Chief Executive Officer. Prior to this he was Executive Director of Bank of India. He will remain on this post from the date of his taking over charge of the post and up to the age of superannuation or until further orders, whichever is earlier.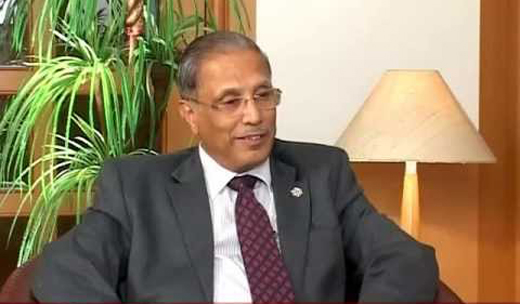 Top Headlines 17 May 2015 Current Affairs |Daily GK Power Capsule
अरुण श्रीवास्तव को सिंडिकेट बैंक का प्रबंध निदेशक और मुख्य कार्यकारी अधिकारी नियुक्त किया गया है। इससे पहले वह बैंक ऑफ इंडिया के कार्यकारी निदेशक रह चुके हैं। उनका कार्यकाल कार्यभार संभालने से लेकर सेवानिवृत्ति की उम्र या अगले आदेश में जो भी पहले होगा, तब तक होगा।
6. Jonodev Osceola Chaudhuri has been sworn in as the chairman of the US's National Indian Gaming Commission, becoming the first Indian-American to occupy this top position in the US. Chaudhuri was sworn in by the Secretary of the Interior Sally Jewell, as Chairman of the NIGC. He will lead a team responsible for regulating and ensuring the integrity of over 450 Indian gaming facilities, associated with nearly 242 tribes across 28 states.
जोनोदेव ऑससिओला चौधरी ने अमेरिका के नेशनल इंडियन गेमिंग कमीशन (एनआइजीसी) के अध्यक्ष पद की शपथ ली। वह इस शीर्ष पद को संभालने वाले भारतीय मूल के पहले व्यक्ति हैं। आंतरिक मामलों के मंत्री सैली ज्वेल ने उन्हें पद की शपथ दिलाई। चौधरी अमेरिका के 28 राज्यों में करीब 242 जनजातियों से जुड़ी 450 से अधिक भारतीय गेमिंग केंद्रों के नियमन की जिम्मेदारी संभालने वाली टीम का नेतृत्व करेंगे।
7. UC Browser has appointed all rounder Yuvraj Singh as its Product Specialist and Brand Ambassador. Yuvraj Singh and UC Browser jointly released a special version of UC Browser for cricket fans called, "UC Browser Yuvi Version" . Announcing the partnership, Kenny Ye, Managing Director of UCWeb India, said, "Yuvraj Singh is an exceptional sportsperson".
आलराउंडर युवराज सिंह को यूसी ब्राउसर ने अपना उत्पाद विशेषज्ञ और ब्रांड एम्बेसेडर बनाया है। युवराज सिंह और यूसी ब्राउसर ने क्रिकेट पसंद करने वाले लोगों के लिए यूसी ब्राउसर के विशेष वर्जन, "यूसी ब्राउसर युवी वर्जन" को भी संयुक्त रूप से जारी किया। यूसी वेब इंडिया के प्रबंध निदेशक कैनी यी ने इस करार की घोषणा करते हुए कहा कि युवराज एक बेहतरीन खिलाड़ी है।
8. Kochi, a major port city on the south west coast of India, will host the World Senior Badminton Championships in 2017. The Badminton Association of India (BAI) had bid for the 2017 World Senior Championships in May last year.
भारत के दक्षिण पश्चिम तट पर एक प्रमुख बंदरगाह शहर, कोच्चि 2017 में विश्व सीनियर बैडमिंटन चैम्पियनशिप की मेजबानी करेगा। भारतीय बैडमिंटन संघ (बीएआई) ने पिछले साल मई में 2017 विश्व सीनियर चैम्पियनशिप की मेजबानी की दावेदारी की थी ।
9. Franz Wright, a Pulitzer Prize-winning poet known for his concise and penetrating style and heartbreaking command of emotions, has died. He was 62.
पुलित्जर पुरस्कार विजेता कवि फ्रांज राइट का निधन हो गया। वे उनकी संक्षिप्त और मर्मज्ञ शैली तथा भावनाओं से ओत-प्रोत लेखन के लिए जाने जाते थे। वह 62 वर्ष के थे।
10. Islamic clothing company East Essence tied up with Snapdeal. The partnership aimed to set up store on their portal. The company will make its debut in June 2015 by launching an online store at e-commerce marketplace Snapdeal. East Essence is the world's largest Islamic clothing company. The company plans to turn India into a global centre of Islamic fashion. The US firm has presence in 68 countries and has annual sales of about 256 crore rupees.
इस्लामिक परिधान बनाने वाली कंपनी ईस्ट एसेंस ने स्नैपडील के साथ समझौता किया। इस समझौते का उद्देश्य ई-कॉमर्स पोर्टल पर स्वयं को स्थापित करना है. यह कंपनी जून 2015 से स्नैपडील की वेबसाइट पर नज़र आयेगी। ईस्ट एसेंस इस्लामिक परिधान बनाने वाली विश्व की सबसे बड़ी कंपनी है। कंपनी अपने इस समझौते द्वारा भारतीय बाज़ार में अपनी पकड़ मजबूत करना चाहती है। यह एक अमेरिकन फर्म है जिसका व्यापार 68 देशों में विस्तृत है तथा इसकी वार्षिक बिक्री लगभग 256 करोड़ रूपए है।